Wig Wam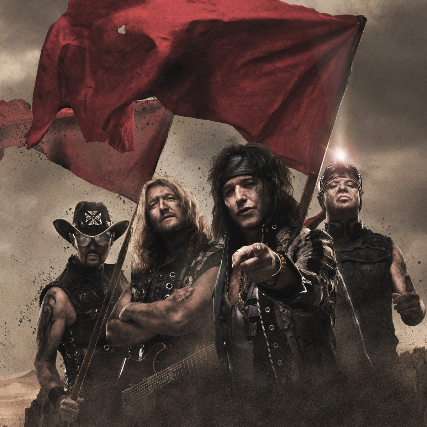 WIG WAM was founded in 2001 and quickly became one of Norway's most popular live bands.
Prior to WIG WAM the band members were already active in the music business, playing in bands like Dream Police, Artch, Sha-Boom, Ole Evenrud, Alien and as solo artists.
In 2004 the band released it's debut album "667 ... The Neighbour Of The Beast", which includes a hardrock version of Mel C.'s no. 1 hit "I Turn to You". The band also collaborated on the Norwegian KISS ARMY's tribute to KISS "Gods Of Thunder" with a cover of "I Was Made For Loving You" feat. former KISS' guitar player Bruce Kulick.To promote their debut album, WIG WAM participated in the Norwegian Eurovision Song Contest with the single "CRAZY THINGS", which made #3. Treating the down hilled Song Contest like a rock festival, WIG WAM drew
a huge number of fans, also called WIG WAMANIACS, to the venue, and were invited to
participate the year after with a song of their own choice. The band was already preparing a new version of their debut album with the title "HARD TO BE A ROCK'N ROLLER", including their brand new song "IN MY DREAMS". The latter was picked for Eurovision Song Contest and made
WIG WAM win the Norwegian finale. "IN MY DREAMS" catapulted the band straight to #1 on the
Norwegian charts, where it stayed for over 6 weeks and went platinum.Just like the album. Representing Norway in the international final, WIG WAM made a name for themselves in Europe and "IN MY DREAMS" turned into a monster-hit in multiple European countries. The success was followed by a 200 date tour in Germany, Norway, Iceland and Sweden.
In November 2005 the band released their first DVD "Rock 'N' Roll Revolution 2005" showing the highlights from Wig Wam's best year so far. Included in this DVD, which soon reached gold, is 'Wig Wam Symphonic' live with a full symphonic orchestra.
In March 2006 the band released it's third studio album "Wig Wamania". First single from the album was "GONNA GET YOU SOMEDAY", which was launched on national tv of the Ski Jump World Cup, where the frontman "Glam"Åge Sten Nilsen performed a ski jump stunt."Gonna Get You Someday" was also a soundtrack to the Norwegian movie "Lange Flate Ballær", produced by Hollywood film director Harald Zwart (Karate Kid, Agent Cody Banks, One Night At McCool's).
Zwart also produced the music video for the song, which became another huge hit.
​
In July 2006 "Wig Wamania" was also released in Japan by King Records with 3 bonus tracks. By the end of August Wig Wam's previous album also hit the Japanese market. The album's Japanese edition with 3 bonus tracks was re-titled "Hard To Be A Rock'n Roller… in Tokyo!".
In the fall of 2006 WIG WAM embarked their first tour of Japan, which was filmed and released in 2007 on DvD titled "WIG WAM LIVE IN JAPAN" and on CD titled "WIG WAM live in Tokyo".
The "WIG WAMANIA TOUR" also brought the band to Iceland, Sweden, Germany as well as the UK for the very first time.
​
In 2007 WIG WAM returned to Japan to play the Loud Park Festival sharing the bill with Heaven & Hell with Ronnie James Dio, Machine Head, Saxon etc, before finally taking a break from the road. The following year the band only did one gig and the members pursued individual projects and started to work on their next album "NON STOP ROCK'N ROLL", not to be released until January 22, 2010. The first single from the album, "Do You Wanna Taste It" premiered on the Tv-show "Clash Of The Choirs" on TV-2. The song was hitting the top of the charts and gave the band yet another big hit. The "NON STOP ROCK'N ROLL TOUR" kicked off in Kawasaki, Tokyo and visited 4 Japanese cities before continuing to Europe. The tour took WIG WAM to Spain, France and Italy for the first time, and in June the band opened up for KISS in Oslo, Norway, on their Sonic Boom Tour.
​
During 2011 the band members drifted further and further apart from each other, which made Bernt and Trond form a new band "Baby Snakes" and later to join JORN as full time members.
The internal differences made it hard for the band to record their next album, "Wall Street", released May 2012. This was the first album not to be followed by a tour or concerts. In August 2013 the band announced that they were breaking up the band after a one off show at Dokka Norway. The break up was later made official in 2014, when Åge Sten Nilsen made it public that he had formed a new band unit called "
Nordic Beast
" with members from Mötorhead, Europe and King Diamond. By then Bernt and Trond were touring with JORN and formed a Trond Holter solo band based on a "Dracula" project. While drummer Øystein Andersen reunited for gigs with his former band Sha-boom and Noice in Sweden. Åge Sten later formed yet another band, AMMUNITION, with Erik Mårtensson of Eclipse on guitar and as co-writing member and producer.
​
In 2019 WIG WAM unexpectedly announced an exclusive comeback on the Norwegian festival "TONS OF ROCK 2020". Unfortunately the Corona pandemic caused the festival to postpone, and during 2020 the re-bound members decided to finally reunite and write new music. October 27th 2020 the single "NEVER SAY DIE" was released as a surprise few days after "TONS OF ROCK" announced new dates for 2021 with WIG WAM on the bill among Deep Purple, Europe and Scorpions. The comeback album was released January 21st 2021. But despite receiving fantastic reviews from both fans and the press world wide, the pandemic made it impossible to promote the album and bring the new songs out on tour. This led to a frustrating year for the comeback hungry band. But like a bolt from the clear blue sky James Gunn reached out to the bands management requesting "Do Ya Wanna Taste It" for the main title of his "Peacemaker" series to air on HBO MAX in 2022. Presenting the opening sequence with a dance routine that took the whole world by storm, introducing Wig Wam to a brand new market and placed the 12 year old single from the album "Non Stop Rock'n Roll" (2010) on #1 on the iTunes rock charts in both USA, UK, Australia and Ireland, and hitting 14 million streams on Spotify in less than 3 months. Wig Wam is back with a Boom!
Welcome back!! And welcome to the second crusade all you Wig Wamaniacs!
NEVER SAY...DIE !!!